Cybercriminals do not care about the size of your business. They just look for two factors – Is there money? & How difficult is it to attack the victim's system? This is where Kaspersky security software acts smart to fortify the cyber perimeter for your business protection. Following articles on Kaspersky anti-ransomware solution and Kaspersky endpoint security, in this article, I am going to discuss the features of Kaspersky Small Office Security.
Tight budgets, limited resources! Are you facing a similar situation in your business? If yes, what's your plan to drive your business forward and make it more profitable in current situation? When businesses are in growth cycles or experiencing a slowdown the top priority is how to manage budgets prudently so that it supports growth and scales the operations in a secure and reliable way. One common approach for a people-centric company is to do a deep analysis of business operations that can help cut down overall expenses. Some tasks like IT network security, Cloud management businesses often require hiring expensive resources and block unnecessary funds. But sometimes businesses don't want to outsource it. So, what's the right path?
We are producing more data than ever before. According to computer giant IBM, more than 2.5 quintillion bytes is produced every day and it's growing fast. There were an estimated 6.4 billion connected "things" in 2016, up 30% from the previous year. We are also continuously sending and receiving data over digital networks. This unstoppable growth is unsustainable if we don't act smart and manage the chunks of Big data that we all produce, store, and constantly share.
We've already stepped into 2018 and this is the time to thinking about upcoming plans, business growth and targets to achieve in 2018. But how can you ensure that your business is ready to scale for growth in 2018? That's why I have put together a business guide that plans out the IT infrastructure needed for your business. Let's begin by thinking what are the top 5 things/resources to equip your business for seamless, hassle-free operations.
According to a popular article by Forbes, more than 200 billion things will be connected via Internet by 2020. Everything including cars, planes, homes, cities, and even animals are getting connected through technological intervention. As technology is getting more and more deeply integrated into our lives, cyber risk is becoming bigger than ever.
In today's highly dynamic work environment, Cloud Computing is a proven technology to make your business more efficient and thus, profitable. According to different researches and statistics numbers, incorporating Cloud technology to any business, big or small, results in high quality of services with the lowest expenses on operational needs.
27% of the larger organisations have already shifted their ERP to the Cloud and 78% are more likely to switch. However, small businesses are still stuck with old traditional systems and don't want to move on. It can be due to multiple reasons. Let's dig deeper into this issue:
According to a popular research, 80% of companies including SMBs that adopt 'Cloud Computing' see improvements in their IT spend within six months. Another report by 'Telsyte' forecasts that the total market value for Public Cloud infrastructure services in Australia will reach up to $775 million by 2019 from $366 million in 2015.
These facts are a clear indication that SMBs can achieve lower operations cost by replacing their regular IT systems with public cloud offerings, even business in critical areas such as business intelligence, customer relationship management (CRM) or enterprise resource planning (ERP). Increased flexibility with Cloud computing allows SMB employees to be more mobile - both in and out of the workplace. This generates the need of expert managed service providers that can bring mobility to your organisation.
Let's take a deeper look into the top five drivers for hiring managed service providers (MSP):
Cybersecurity is one of the biggest concerns for businesses today. Small and medium size companies try to follow their larger counterparts by adopting new skills to manage security but usually fall short because of several reasons. It can be due to the lack of infrastructure they currently have, the tools they deploy or the process they adopt to drive these services.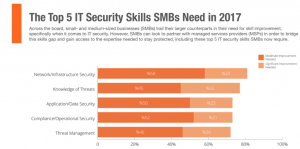 Check out these three major drawbacks that SMB's face when trying to resolve IT issues on their own:
(1) Lack of Skills: Finding an expert who is proficient with the skills is always an on-going challenge in the business world – specifically when it comes to IT security. You may be amazed to know that close to 45% people are unaware of threats to their Cybersecurity. One reason could be lack of training, certification, or hands-on experience. Nevertheless, lack of skills has become one of the biggest obstacles to defend the business from unstoppable threats.
Many of us are still trying to recover from the recent Ransomware 'WannaCry' attack that affected almost 150 countries and 4,00,000 machines across the globe. If you were one of the victims and are still contemplating a security and backup solution, you are stretching your luck too much.
According to computer security experts, the first thing you need to identify is - What are the key solutions that you need to implement for making your cyber security strong?
Office 365 offers a full range of tools to make you and your organisation more productive. Although, you might be used to your old interface but Office 365's amazing features can revolutionise the way you work, collaborate with your team-mates and do business.
Office 365 is a Cloud based environment but it can be installed on your computer for best experience of MS World. Installing onto a computer allows you to use features of 'Office Online' i.e. online-only version, available free of cost. The best thing about using Office 365 is that Microsoft automatically adds new features. You don't need to pay extra charges other than your subscription.