Kaspersky Small Office Security– A Quick Anti Ransomware Solution for SMBs
Over the years, IT security has been a big concern among many business organisations. In 2015 and 2016, a large number of cyber incidents involving ransomware were registered at Kaspersky lab. A large ransomware family including ExPetr, WannaCry, Bitman, Onion, Shade, Mor, Locky, CryptXXX, Zerber, Shade, Crysis, Cryrar, Snocry, Cryptodef and Spora tried to extort money from businesses in exchange for their sensitive data. According to an IT Security Risks 2016 Survey, more than 42% of small and mid-size companies were attacked by ransomware. One-third of the enterprises had to pay the ransom demanded by attackers and only 18% of the companies were able to restore their lost data even after paying ransom. That's why there is an urgent need of a smart and secure anti ransomware solution to prevent any security breach that can bring a business to a standstill.

In order to tackle these security challenges and threats, Kaspersky has come up with an anti-ransomware solution – Kaspersky Small Office Security Software, designed to help SMBs. Some of the distinct features offered by Kaspersky Small Office Security to keep the fraudsters at bay are:
Enhanced Anti-Ransomware Functionality – Block malicious encryption attacks, trigger an automatic backup and restore it.
Improved Safeguarding of Online Transaction: Counteract cyber-attacks on online financial transactions with enhanced safe money features.
Conventional Security Status Monitoring: Through a dedicated, cloud-based monitoring console, businesses will get a single view of the protection status of all devices – PCs, laptops, mobiles on their network.
Every organisation needs a multi layered security that can reduce the probability of any outbreak getting successful. If one line of defence is breached by the attackers, there should be another layer to protect. Kaspersky's Small Office Security solution is a next generation, multi-layered IT solution against known, unknown and advanced threats.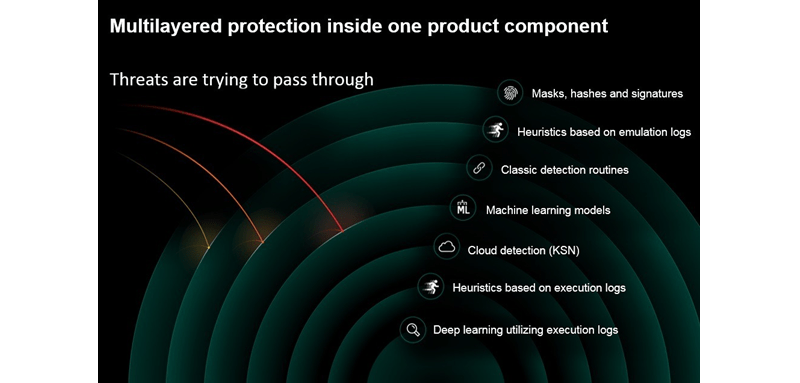 You can always have it on standby to protect your enterprise against threats encountered to the physical and virtual endpoints, mobile devices, laptops, email systems, servers, gateways, and Sharepoint Portals.
Cybercriminals never care about the size of business. They just look for two factors – "is there any money" and "is it difficult to get", and a possible combination of 'yes-no' make them intend to attack. This is where Kaspersky security software acts smart to fortify the cyber perimeter. It is never easy to keep an eye on attackers but thanks to Kaspersky's tailored solution for small businesses that reacts and pauses it before they actually attack.
If you would like to implement the world's most tested and most awarded security solution for your business then check out Kaspersky Small Office Security. Call us 'or' Email us for information to safeguard your PCs, file servers, laptops and mobile devices from online attacks, financial fraud, ransomware and data loss.
Stay tuned to our Facebook and LinkedIn Page for more updates. Please drop your query along with your email address or phone number in the comment box so that we