How to Introduce Security in Modern Workplace using MS Office 365
In our last couple of blogs, we have discussed a number of exciting features, new add-ons and great flexibility to empower teamwork among employees. As MS Office 365 lets you work on shared documents over Cloud, security in your shared working environment becomes a strong focus.
Our modern-day work styles are attracting a large amount of cyber threats – from individual threats to sophisticated organizational breaches and massive cyber-attacks. With the growing complexity in the current work environment, cybercriminals have expended to a level where no single service can adequately protect an organization. To overcome the issue, organizations need complete security—Right from employee identities, enterprise applications to data, devices, and infrastructure. According to a popular forecast—Cyberattacks will likely cost $6 trillion worldwide by 2021. Microsoft Office 365 threat protection helps mitigate advanced threats by providing an end-to-end holistic solution to secure an organization from all of the potential threat factors, available on Cloud.
End to end security focus
Combined with a rich set of security features, MS Office Threat Protection stack provides more effective and efficient ways to enable detection and response to the cyber-attacks. Let's understand how MS Office focuses on end-to-end security:
Protection: Set up and configure Office 365's security services against advanced threats before they impact your organization. Office 365 offers a rich, robust, comprehensive, and multi-layered solution to address cyber-attacks.
Detection: In case a breach occurs, customers have visibility to all malicious emails that are targeted to the organization. They can even know when and where the breach has occurred, and which data is lost.
Response: Remediate from an attack and return the organization to a 'No-Threat' state. Since Microsoft IT began leveraging Office 365 Threat Intelligence, cases throughout have increased 37 percent per month and the average time to resolve incidents have reduced by 80 percent.
Remediate: You can also learn how to react or respond to different types of threats.
MS Office 365 Products That Can Mitigate Cyber Attacks
Get powerful protection against cyber threats with a range of popular MS Office 365 add-on features: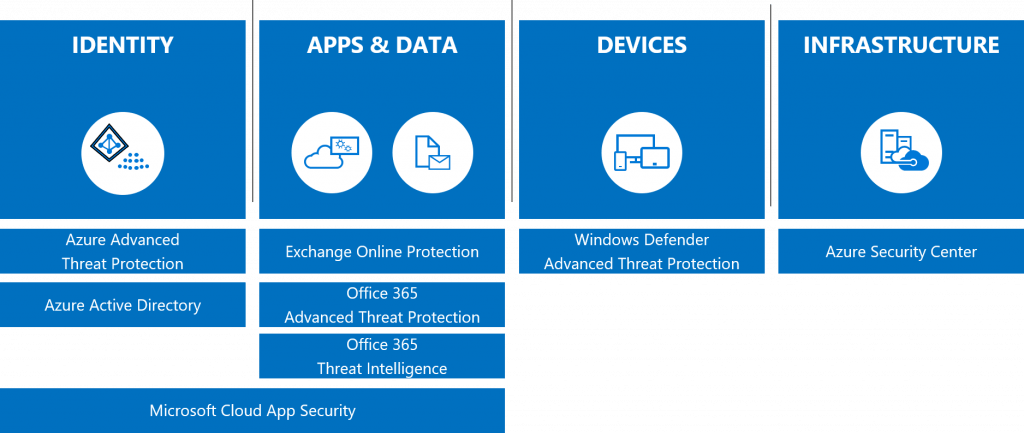 Image Credit: Microsoft 365Threat Protection Security Service
Office 365 Advanced Threat Protection: It can help protect your mailboxes, files, online storage, and applications against new & sophisticated attacks in real time.
Help defend against advanced email threats: Office 365 Advanced Threat Protection (ATP) helps protect against sophisticated threats hidden in email attachments and it provides cutting-edge defenses against dangerous cyber activities. Rich reporting lets you investigate why ATP flagged a threat, and it gives you details about the users who received malicious emails and malicious links.
Office 365 Cloud App Security: It gives insight into suspicious activity in Office 365 so you can investigate situations that are potentially problematic and, if needed, take action to address security issues.
Enhance your visibility and control: Identify high-risk and abnormal usage, security incidents and evolving threats within your Office 365 environment and set up detailed anomaly-detection policies and controls with Office 365 Cloud App Security. Gain enhanced visibility into your Office 365 usage and uncover Shadow IT of cloud apps in your organization.
Drive Digital Transformation in Your Organisation with ICTechnology
With more than 100 million commercial monthly active users of Office 365, and more than 500 million Windows 10 devices in use, Microsoft is in a unique position to help companies empower their employees, unlocking business growth and innovation by setting up certain security standards.
So, are you ready to protect your information with MS Office 365? With a seamless experience across your workplace and infrastructure, MS office provides the new standard to get the work done and achieve more.
To implement MS Office 365 for your organizations and to enjoy these great features, contact us at ICTechnology, a leading managed service provider in Australia. All you need to do is fill this form and we will contact you. You can also call us directly at 1300-123-428.
We will assess the current environment and provide backup and disaster recovery solutions, network infrastructure, Cloud migration, MS Office 365 implementation, network and workstation security, and complete hardware solutions.
Stay tuned to our Facebook, LinkedIn, and Google Plus page for updates.
NOTE: This is advice only and may not fit your organization. Please contact us for a customized approach to your business.