How Kaspersky Cloud Security Acts As An Iron Shield For All Your Data?
To secure your organization from cybercriminals, you must be able to protect your data. And to protect your data at all times, you should know when it's under potential or actual attack, and by what. Right from APTs (Advanced Persistent Threats), ransom ware, data theft and financial fraud, cyber threats can enter to your data in all shapes and sizes and cause critical damage to your network. So your IT security system must be able to spot, block and remediate all potential threats before they actually reach your data and start harming your network and operations. Your IT security system must do it without compromising the performance and most importantly without generating 'false positives', causing disruption and wasting resources with false alarms.
But before going in further details about Cloud Security protection, let's discuss about current security of Data over Cloud.
How Secure is Your Data in Clouds?
The answer to this question is not as straightforward as it seems. People may think that their data is safe once they have it on the Cloud, especially private setups. However, it's not completely true. For total protection and to prevent outside threats that may reach you while data is travelling over web, you need advanced security programs launched for Cloud protection. Similarly public Clouds that are commonly used by large organizations require greater attention on how data is stored and shared across the network, minimizing any leak.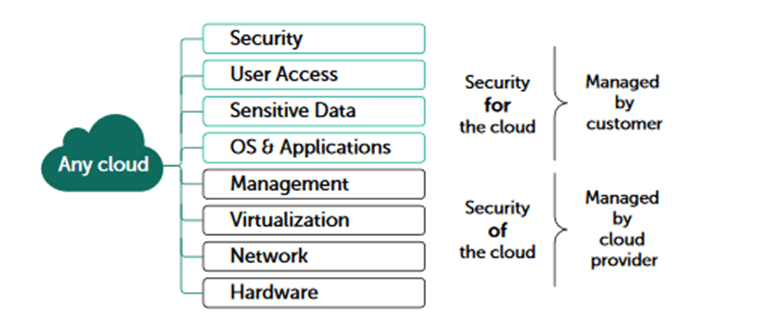 However, data leakage is just one aspect of security, it may be exposed to ransom ware while travelling to one place to another (when a communication takes place). Hosted cloud service providers are responsible for the security of the environment they provide, but responsibility for the internal security of each workload, wherever it sits still remains with you. This is where you need an advanced security program for complete protection and you can get it done through an expert managed service provider like ICTechnology.
For advanced Cloud security, you can get Kaspersky Cloud Security for your organization.
Kaspersky Cloud Security for Your Public, Private, and Hybrid Cloud Protection
Kaspersky Cloud Security is a solution engineered to deliver next generation cyber security for enterprise grade hybrid cloud environments. Kaspersky believes that cyber security is there to maintain business sustainability, protecting corporate evolution and digital transformation. Security must partner with infrastructure, rather than building barriers.
Right security at right time: Kaspersky Cloud security provides outstanding multi-layered protection to multi-cloud environments. It will detect that you are connected to an insecure network and offer to turn on a VPN and encrypt the data you transmit so that no one on the local network can see or steal it.
The other popular features you can get with Kaspersky Cloud Security
For secure network: Accelerate visibility across cloud environments for superior edge-to-edge protection.
One Product, Any Cloud: Proven security for physical and virtual servers, VDI, storage, AWS, Azure and even data channels.
Seamless security experience: A seamless enterprise-level automated security provisioning, for secure and uncompromised cloud migration.
Protection for you & your business: Kaspersky Security Cloud protects you on every device you have — PC, Mac, phone or Android.
Implement security that is truly yours with ICTechnology
At ICTechnology, we deliver a solution that is agile, continuously secure and has superior efficiency, protecting your data against the most advanced current and future threats without compromising on system performance and Kaspersky Cloud security is a perfect fit to match this requirement. Contact us now to implement Kaspersky Cloud security for your business/organization.
Ask for a FREE security assessment of your existing network and identify what is missing in your technology environment. To do a security assessment or get started with our free and no-risk security assessment, please fill out this form to send your query and we will get in touch with you very soon.
Stay tuned to our Facebook, LinkedIn page for more updates.