In our last couple of blogs, we've discussed how to protect your network, Cloud, and your organization's ICT system. But we missed out Mobile security completely. We need to seriously consider security of the most important digital device—mobile phone that remains with us 24/7 and holds most of our sensitive information. In recent years, cybercriminals have been increasingly looking for ways to attack
Office 365 users may think they are well protected against any kind of cyber threat. But it is not completely secure and can attract a cyber attack, which can be disastrous for their business. Give it a complete protection with Kaspersky Security. DID YOU KNOW THAT 3.5 MILLION EMAILS ARE SENT EVERY SECOND? IT ONLY TAKES FEW SECONDS TO BRING DOWN YOUR ENTIRE BUSINESS. We all know
IT directors, administrators, and CIOs managing enterprise set-ups, spanning multiple cities or countries need efficient and secure networks. It is true that larger organizations have more complex IT requirements compared to the small-to-medium businesses (SMB). However, this doesn't mean that SMBs don't need those set-ups. In most small companies or even 250 people, they may have one IT person in place of IT managed services to manage all network related issues around the office. You can imagine how efficient that would be especially keeping up with the changing technology or watching out for cyber-attacks.
Cybersecurity is one of the biggest concerns for businesses today. Small and medium size companies try to follow their larger counterparts by adopting new skills to manage security but usually fall short because of several reasons. It can be due to the lack of infrastructure they currently have, the tools they deploy or the process they adopt to drive these services.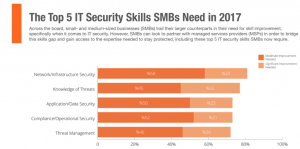 Check out these three major drawbacks that SMB's face when trying to resolve IT issues on their own:
(1) Lack of Skills: Finding an expert who is proficient with the skills is always an on-going challenge in the business world – specifically when it comes to IT security. You may be amazed to know that close to 45% people are unaware of threats to their Cybersecurity. One reason could be lack of training, certification, or hands-on experience. Nevertheless, lack of skills has become one of the biggest obstacles to defend the business from unstoppable threats.