My previous article on MS Office 365 explained its growing network and its worldwide availability in over 246 markets and 44 languages. By now, we know for a fact that Office 365 provides the broadest and deepest set of apps and services with a universal toolkit for teamwork, giving people flexibility and choice in how they connect, share, and communicate.
Whether you are working in your office premises or on-the-go, enjoy the benefits of MS office 365 new apps, features, and top-of-the-line set of productivity tools. Office 365 accelerates the path of 'digital transformation' by adding new extensions to your work. With its universal toolkit, it gives the flexibility to streamline teamwork, provides flexibility and choice of how people can connect, share and communicate. Whenever and wherever you are, it lets you create, edit, and share important data from your PC/Mac, your iOS, Android™, or Windows device with anyone in real time.
According to a popular article by Forbes, more than 200 billion things will be connected via Internet by 2020. Everything including cars, planes, homes, cities, and even animals are getting connected through technological intervention. As technology is getting more and more deeply integrated into our lives, cyber risk is becoming bigger than ever.
Over the years, IT security has been a big concern among many business organisations. In 2015 and 2016, a large number of cyber incidents involving ransomware were registered at Kaspersky lab. A large ransomware family including ExPetr, WannaCry, Bitman, Onion, Shade, Mor, Locky, CryptXXX, Zerber, Shade, Crysis, Cryrar, Snocry, Cryptodef and Spora tried to extort money from businesses in exchange for their sensitive data. According to an IT Security Risks 2016 Survey, more than 42% of small and mid-size companies were attacked by ransomware. One-third of the enterprises had to pay the ransom demanded by attackers and only 18% of the companies were able to restore their lost data even after paying ransom. That's why there is an urgent need of a smart and secure anti ransomware solution to prevent any security breach that can bring a business to a standstill.
Most organizations know the risk of security attacks and hence they usually have a IT disaster recovery (DR) plan to protect their businesses. Chances are, you are also following a DR plan for the safety of your business. How would you recognise that your DR plan is robust that it will stand a deadly ransomware attack? Do you recall the Brisbane, BEC Scam 2016 where scammers targeted the Brisbane city council through series of fake invoices? In this scam, the city council lost close to $450,000. This is a clear case of a disaster that happened in terms of cyber-attacks. Business organisations should stay vigilant at all times. A strong DR plan is always recommended for businesses to prevent their data from any kind of security breach.
According to a popular research, 80% of companies including SMBs that adopt 'Cloud Computing' see improvements in their IT spend within six months. Another report by 'Telsyte' forecasts that the total market value for Public Cloud infrastructure services in Australia will reach up to $775 million by 2019 from $366 million in 2015.
These facts are a clear indication that SMBs can achieve lower operations cost by replacing their regular IT systems with public cloud offerings, even business in critical areas such as business intelligence, customer relationship management (CRM) or enterprise resource planning (ERP). Increased flexibility with Cloud computing allows SMB employees to be more mobile - both in and out of the workplace. This generates the need of expert managed service providers that can bring mobility to your organisation.
Let's take a deeper look into the top five drivers for hiring managed service providers (MSP):
Cybersecurity is one of the biggest concerns for businesses today. Small and medium size companies try to follow their larger counterparts by adopting new skills to manage security but usually fall short because of several reasons. It can be due to the lack of infrastructure they currently have, the tools they deploy or the process they adopt to drive these services.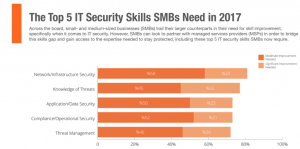 Check out these three major drawbacks that SMB's face when trying to resolve IT issues on their own:
(1) Lack of Skills: Finding an expert who is proficient with the skills is always an on-going challenge in the business world – specifically when it comes to IT security. You may be amazed to know that close to 45% people are unaware of threats to their Cybersecurity. One reason could be lack of training, certification, or hands-on experience. Nevertheless, lack of skills has become one of the biggest obstacles to defend the business from unstoppable threats.
Many of us are still trying to recover from the recent Ransomware 'WannaCry' attack that affected almost 150 countries and 4,00,000 machines across the globe. If you were one of the victims and are still contemplating a security and backup solution, you are stretching your luck too much.
According to computer security experts, the first thing you need to identify is - What are the key solutions that you need to implement for making your cyber security strong?