Ever thought how downtime can hurt your business, especially because of an IT issue? For years, one universal standard to measure downtime is calculating the "cost to business". However, the overall loss to the business is much bigger than we can actually see. The impact of a single IT failure on the top or bottom line of a business cannot be measured by just calculating the loss to revenue. Many business owners claim that they can afford to go down for an extended period, neglecting to consider consequences like reduced profitability and total business failure. But the truth is that no business owner wants to see the downtime. In order to understand this, let's calculate how costly a single downtime event can cost your business.
My previous article on MS Office 365 explained its growing network and its worldwide availability in over 246 markets and 44 languages. By now, we know for a fact that Office 365 provides the broadest and deepest set of apps and services with a universal toolkit for teamwork, giving people flexibility and choice in how they connect, share, and communicate.
Whether you are working in your office premises or on-the-go, enjoy the benefits of MS office 365 new apps, features, and top-of-the-line set of productivity tools. Office 365 accelerates the path of 'digital transformation' by adding new extensions to your work. With its universal toolkit, it gives the flexibility to streamline teamwork, provides flexibility and choice of how people can connect, share and communicate. Whenever and wherever you are, it lets you create, edit, and share important data from your PC/Mac, your iOS, Android™, or Windows device with anyone in real time.
According to a popular article by Forbes, more than 200 billion things will be connected via Internet by 2020. Everything including cars, planes, homes, cities, and even animals are getting connected through technological intervention. As technology is getting more and more deeply integrated into our lives, cyber risk is becoming bigger than ever.
Moving to the Cloud for running and storing information for your business is no longer a new idea but has become a standard practice. According to the 2017 survey on Cloud adoption by RightScale, 95% of respondents are running their applications on Cloud storage.
According to a popular survey report by the famous news and reviews channel 'CommsTrader', more than 55% of organisations use Skype for Business for internal communication. Being a fully-functional business communication tool, it allows seemless connectivity between coworkers or business partners anywhere in the world. To grow an organization, a great team is the corner stone and to build a great team, great communication is the building block for it. This has been simplified with all features listed in Skype for Business as users can enjoy instant messaging all day and simplify their office infrastructure. If you want to experience its numerous functionalities, ICTechnology is providing a 'Free demo' for all. Just one great app for messaging, calling, meetings, video, conferencing, file storage and screen sharing that works with all popular Office tools. It seems to synchronize your complete business communication, among all levels of the organization.
In today's highly dynamic work environment, Cloud Computing is a proven technology to make your business more efficient and thus, profitable. According to different researches and statistics numbers, incorporating Cloud technology to any business, big or small, results in high quality of services with the lowest expenses on operational needs.
27% of the larger organisations have already shifted their ERP to the Cloud and 78% are more likely to switch. However, small businesses are still stuck with old traditional systems and don't want to move on. It can be due to multiple reasons. Let's dig deeper into this issue:
According to a popular research, 80% of companies including SMBs that adopt 'Cloud Computing' see improvements in their IT spend within six months. Another report by 'Telsyte' forecasts that the total market value for Public Cloud infrastructure services in Australia will reach up to $775 million by 2019 from $366 million in 2015.
These facts are a clear indication that SMBs can achieve lower operations cost by replacing their regular IT systems with public cloud offerings, even business in critical areas such as business intelligence, customer relationship management (CRM) or enterprise resource planning (ERP). Increased flexibility with Cloud computing allows SMB employees to be more mobile - both in and out of the workplace. This generates the need of expert managed service providers that can bring mobility to your organisation.
Let's take a deeper look into the top five drivers for hiring managed service providers (MSP):
Cybersecurity is one of the biggest concerns for businesses today. Small and medium size companies try to follow their larger counterparts by adopting new skills to manage security but usually fall short because of several reasons. It can be due to the lack of infrastructure they currently have, the tools they deploy or the process they adopt to drive these services.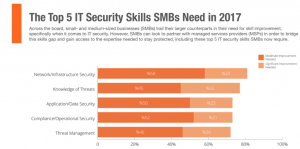 Check out these three major drawbacks that SMB's face when trying to resolve IT issues on their own:
(1) Lack of Skills: Finding an expert who is proficient with the skills is always an on-going challenge in the business world – specifically when it comes to IT security. You may be amazed to know that close to 45% people are unaware of threats to their Cybersecurity. One reason could be lack of training, certification, or hands-on experience. Nevertheless, lack of skills has become one of the biggest obstacles to defend the business from unstoppable threats.
Many of us are still trying to recover from the recent Ransomware 'WannaCry' attack that affected almost 150 countries and 4,00,000 machines across the globe. If you were one of the victims and are still contemplating a security and backup solution, you are stretching your luck too much.
According to computer security experts, the first thing you need to identify is - What are the key solutions that you need to implement for making your cyber security strong?